Western Red Oak is a type of Red Oak that grows among Pine, Fir and other conifers along the lower elevations of the Sierra Nevada Mountains and Coast Range, running the length of the state of California into southern Oregon. Sawtimber trees range from 17" to 48" dbh and account for 48% of growing stock volume which is estimated at over two billion cubic feet.

Prior to 1965, Western Red Oak had little commercial value, but advances in milling and drying techniques have since enabled this species to rise to among the finest commercial hardwoods in the country.

The heartwood-sapwood distinction is similar to Eastern Red Oak. That is, tan or blond heartwood and sapwood is a cream color. This rich but subtle, tightly grained hardwood features quartersawn lumber and a tiny ribbon pattern. Ideal for fine furniture and cabinetry, but is also popular for residential flooring.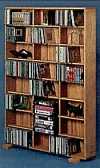 Heavy and hard, Western Red Oak is widely favored for its excellent machining properties. It takes stains and finishes very well, and resembles Appalachian Red Oak enough to be compatible with eastern Red Oak veneer plywood.
Random length is generally limited to 10' and width to 10" and is milled to 3/4, 4/4, 5/4, and some 6/4 thickness. Available is S2S, and custom millwork in S4S, T&G, cut stock, and dimension stock. Graded by western hardwood rules published in the NHLA grade rule book. Select and Better is virtually FAS except for length and width restrictions.