Western Alder thrives in the low moist conditions typical of the West Coast Range from southern British Columbia to northern California. It is the most abundant western hardwood and is a prolific, fast-growing species that can provide sawtimber size trees in 25 to 30 years.

Sawtimber trees are generally 10" to 48" dbh which accounts for 50% of the total growing stock of over seven billion cubic feet.

Western Alder is a close or fine-grained hardwood similar to cherry, birch and maple. It has a density or hardness comparable to Appalachian soft maple. Western Alder is extremely uniform in its light tan or honey color, and there is no color difference between heartwood and sapwood. This makes Alder much easier to match and finish, even with clear "fruitwood" finishes that require no stain, because kiln-dried Alder presents no problems with sap, mineral streaks, dark color or stain. It features a light pattern which adds to its popularity for printing and matching Alder solids with many species of veneers without bleaching.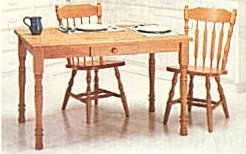 Western Alder is ideally suited for cabinets, fine furniture, furniture frames, pallets, plywood, veneer, specialty items and paper products.
Random length is generally 8 and 10' with the width to 10" and thicknesses of 3/4, 4/4, 5/4, 6/4, 8/4, 10/4 and 12/4. Available in S2S, and custom millwork in S4S, cut stock, turning stock and laminated stock. Graded by western hardwood rules published in the NHLA grade rule book.