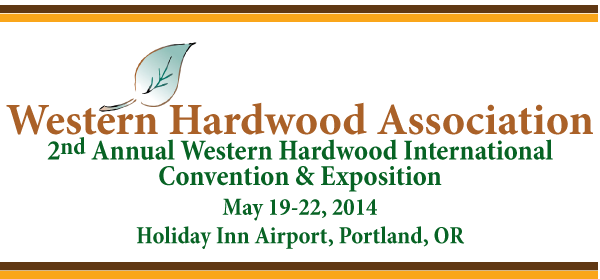 May 19-22, 2014
Holiday Inn Airport, Portland, OR
Names are underlined for Speakers with presentations available.
All are PDF format.
Opening Keynote: Export Markets - Mike Snow, AHEC
Seminar #1: Truth About Trees - Charley Fiala and Crystal Oldham, Hardwood Forest Foundation
Seminar #2: Phytosanitation- Jennifer Hart, APHIS
Seminar #3: Design Trends: Commercial and Home Building Market - Brian Court, Miller Hull Partnership and Paul Vanderford, Sustainable Northwest
Seminar #4: Markets & Economic Outlook- Gordon Culbertson, Forest2Market
Seminar #5: Automation in the Workplace - Jeff Maguire, Maguire Machinery Group, and Kurt Quade, Weinig, Inc.
Seminar #6: Hardwood Inventory of the Northwest - Bruce Bare, University of Washington
Seminar #7: Innovation in Wood Use - Scott Leavengood, Oregon State Wood Innovation
Seminar #8: Western Update from an NHLA Level - Dana Spessert, NHLA